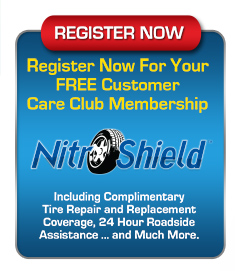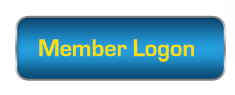 NitroFill, a world leader in tire maintenance and protection products, is proud to introduce NitroShield, the world's only "permanent" Tire Protectant.
NitroShield is a professionally installed; ultra-durable tire dressing that provides a lustrous, gloss finish while shielding tires from UV rays, ozone damage and oxidation.
A single application of NitroShield can provide a lifetime of tire protection as well as a rich, glossy shine that can last the life of the treated tire.

Provides Rich, Glossy Finish
Contains No Silicone or Petroleum
Protects Against Ultra Violet Rays
Eliminates Ozone Damage and Oxidation
Anti-Static: Repels Brake Dust and Dirt

Water Proof, Weather Proof
Won't Wash, Wipe or Sling Off
Completely Dry to the Touch
Eliminates Tire Browning
Can Last the Life of the Tire
Unlike most tire appearance products and dressings, NitroShield is solvent-free, water based, environmentally friendly and will not damage tires. Most tire manufacturers recommend against the use solvent-based tire dressings due to their destructive qualities. Solvent-based dressings actually promote tire yellowing and cracking, and can destroy the UV and ozone protectants that are essential to the life, color and texture of a tire. NitroShield, on the other hand, contains the same UV and ozone protectants that are used in tire manufacturing and enhances tire longevity.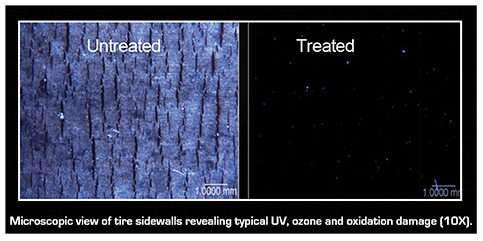 Your tires are the most expensive replacement item on your vehicle. Don't expose them to premature aging and deterioration. Protect your tires and keep them looking like new with NitroShield.